Where Have You to Be Involved in The Drilling Process Constantly?
Views:221 Author:Site Editor Publish Time: 2019-06-06 Origin:Site
If you are doing a job or belong to an industry where you have to be involved in the drilling process constantly, then this study is only for you!
Many tools and materials can complete the drilling procedure. But it is suggested that you drill by using a diamond. You should be using diamond for drilling because they are the hardest known material in mankind's history to date. If you are using a diamond on a drilling tool, it can grind down your required material in micro level or Nano level to say in technical terms.
Although there are different types of diamond core bit found in the industry, however; I' d like to take this moment and mention a few of the core drill bits made up of diamond. Surface set diamond core bit (pictured below) is a type of diamond core bit used very popularly by geology world.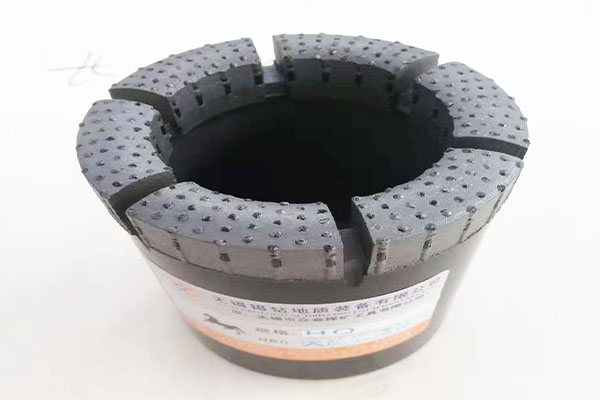 The surface set diamond core bit is originally made up in Wuxi, China. These surface set diamond core bits can be used with any core barrels in the geological world. It is suggested that if you would like to avoid the excessive matrix, the surface set diamond core bet should be wearing on each segment' s leading edge. A point that you should note very carefully here is that these types of bits cannot be used in loose or broken formation. Surface set diamond core bits have an extra edge on impregnated synthetic diamond core bit. The reason behind having this edge is that they provide higher rates of penetration than impregnated synthetic diamond core bit. A reason behind this higher penetration is that the surface set diamond core bits are exposed to individual stones in a much greater degree.
Another type of core drill bit in the diamond category is impregnated diamond core bit (pictured below). Let me provide you with some of the details about this core drill bit.
The impregnated diamond core bit is used in exploration drilling and is also made up in China. These type of core bits usually outperform the successful series range of other core drill bits. It is observed and also mentioned that this type of bit save the diamond from surface degradation and also from oxidation. The impregnated diamond core bit is found in different configurations, and each of the found configurations can be selected as per ground condition and rock hardness.
If we talk about the bit matrix of impregnated diamond core bit, it is mentioned that these impregnated bits are designed in such way that they expose the new diamonds to the cutting face of the bits. Due to this procedure and technology, fast penetration can be obtained in the drilling process. This action will not only ensure that you can have fast penetration in your drilling process, but it also ensures that the cost of diamond drilling is kept to minimum range possible.
Although, I have the matrix type in the paragraph above, however; I would like you to please note that the size, concentration and the matrix used in the diamond also depends upon the hardness of the formation that is required to be drilled.