New Coal Bed Methane Drilling Technology Could Help Solve China's Pollution Problems
Views:222 Author:xizuan Publish Time: 2019-02-13 Origin:Site
By degassing the coal mines in China, many of the gas explosions at China's coal mines can be minimized. Coal bed methane is actually methane gas present in coal seams, methane gas is released into the atmosphere from working mines, abandoned mines as well as through the exhaust system of mines thereby resulting into greenhouse gas. By releasing the methane which is trapped inside the virgin coal seams, it could be used as a source of energy.
China United Coal Bed Methane Company believes the expansion of China's coalbed methane industry may help reduce the high incidence of coal mine accidents. The development of this resource has great strategic significance for China, as it could help narrow the growing energy supply and demand gap, while reducing environmental pollution in the country." According to the US Energy Information Administration, overall natural gas consumption in China is projected to grow at an average annual rate of 7.8 per cent, from 1.2 trillion cubic feet in 2002 to 6.5 trillion cubic feet in 2025 - jump of more than 500 percent. Every available method, including CBM development will be necessary to help meet that forecast.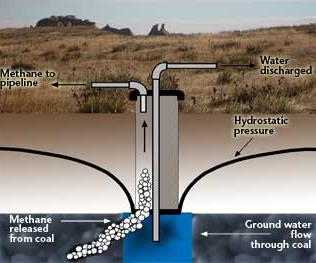 The Xinhua news agency announced in March 2002 it was partnering with a Canadian executive agency help develop China's CBM resources. The Canadian group included the Canada Alberta Research Council, the Canada Computer Modeling Group Ltd, and Sproule International. The project aimed to effectively exploit the coal bed methane gas using Canada's advanced technology. The 19th CBM concession awarded by China United Coalbed Methane Co (CUCMB) was announced in March 2004 through a news release issued by the Embassy of the People's Republic of China in New York. The 150.8 square kilometre CMB concession had estimated gas reserves of 30 billion cubic meters. What was noteworthy was this mention far down in the press release, Sino-American Energy which specializes in the exploration, development as well as production of coalbed methane resource will introduce its advanced horizontal well technology for pilot development in China.
China is more than eager to exploit its resources, lower the pollution problem and also limit the number of mine fatalities. However, China need technology so as to move China into major superpower status before 2050. There are favourable policies which support cold bed methane drilling technology thereby providing an environment free from pollution.
The reason why most companies are excited with this drilling technology is that it has a high success rate. This method likewise ensures the drilling is done at a reduced price thereby making it easy to achieve the drilling process. While horizontal drilling is the nature of cold bed methane drilling, some companies likewise use other methods which can also achieve the same result.

Most drillers will make use of the vertical or horizontal underground penetration. However, some companies combine the two methods so as to achieve their aim. The combination of the vertical and horizontal drilling would allow for a much more efficient extraction of water from the cold bed methane well while increasing the flow rates of gas from the well. Several companies have started using cold bed methane drilling technology because of its numerous benefits among which is the reduction of pollution problem.