Description:
Impregnated diamond exploration coring drill bit:While drilling, the matrix diamond constantly exposed till the matrix is worn. The matrix has a certain height, the outer diameter is slightly larger than the outside diameter of the drill body, the inner diameter is also slightly smaller than the inner diameter of the drill body,
There are serveral waterways on the outer ,inner surface and bottom of the matrix , removing the rock powder and the cooling bit through the flush. Most of the impregnated diamond drill bits are made of synthetic diamond, called artificial pregnant diamond bits. Artificial diamonds are much cheaper than natural diamonds and can be drilled more widely in hard formations
Basic info
Original: Wuxi, China
Certification: ISO9001
Price: Negotiable
Model NO: NQ3 HQ3 PQ3 NQTT HQTT PQTT
Usage: Wireline core barrel parts
Payment term: TT, LC
Delivery date: Negotiable
Packing: export standard
Standard:DCDMA
MOQ: 1 PC
Packaging and shipping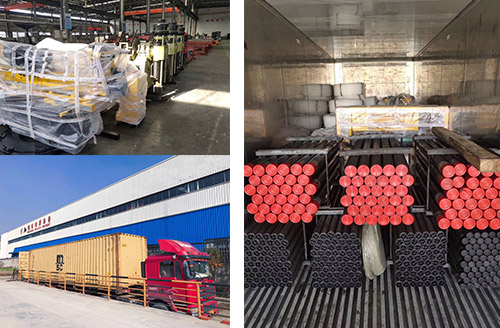 About us
We Wuxi Geological drilling equipment co.,Ltd is mainly engaged in drilling tools manufacturing, our products include:
Q series diamond bit :AQ BQ NQ HQ PQ/NQ3 HQ3 PQ3 diamond core bit,T2 46,T2 56,T2 66,T2 76,T2 86,T2 101 diamond drill bit, T6 76,T6 86,T6 101,T6 116,T6 131,T6 146, T6S 101diamond drill bit, NMLC,HMLC,LTK48,LTK60,BGM,NGM,ADBG,TBW,TNW diamond drill bit;
Drill rod:BQ NQ HQ PQ drill pipe,BW NW HW PW casing pipe, NWT HWT PWT casing pipe;etc
Wireline core barrel: BQ NQ HQ PQ double tube core barrel,T2 series core barrel,T6 series core barrel,etc.
Core drilling rig :spindle type diamond core drilling rig,hydraulic diamond core drilling rig,,underground core drilling rig,etc.
If you're looking for impregnated diamond exploration coring drill bit, welcome to consult the quotation with our factory. We're one of the leading Diamond Core Bit manufacturers and suppliers in China, offering low price and excellent service. For customized products, contact us to inform us of details now.