NMLC, HMLC surface set diamond drilling bits Description
We provide 2 types of NMLC,HMLC diamond drilling bits: Impregnated and surface set type.
Basic info
Original: Wuxi, China
Certification: ISO9001
Price: Negotiable
Model NO: NMLC HMLC
Usage: Wireline core barrel parts
Payment term: TT, LC
Delivery date: Negotiable
Packing: export standard
Standard:DCDMA
MOQ: 1 PC
Advantages
a. Extensive production experience: we are specialized in diamond core bits,drill bits,wireline drilling tools,drill pipes,casings,mud pumps, underground drilling rigs with an experience of 10 years.
b. Complete production facilities: owning precision CNC machine, Milling machine, Sintering machine, Manipultator and other advanced equipments. Our technicians will do regular scheduled maintenance on these machines to guarantee them work well.
c. High quality raw material: we mainly choose raw material from big steel factory, such as TPCO, BAO STEEL, SHA STEEL, which are best and largest raw material manufacturer in China.
d. Strict Physical/Chemical testing procedures: meeting the requirements of the product design and process, providing reliable testing data.
e. Short Delivery time: If one container 15-20 days. We also stock some standard-sized tubes and rods, if you need 3-5 pcs, we can delivery soon.
f. Safe packing: anti-rust oil be spread on tubes and rods before shipping, plastic caps on tube ends to protect inside surface, each rod be protected with cardboard tube. Finally be packed with seaworthy package or in wooden case.
g. Best after-sale service: Over 60% products are sold to the Southeast Asia, Middle East and Europe, and all products are trusted by domestic and foreign customers.
Our service
Ø Provide the technical design and solutions;
Ø Designing and manufacturing of non-standard equipment;
Ø Professional technical training and guidance on site according to the contract;
Ø Supply accessories at any time;
Ø Tele-technical consulting and services;
Ø Other special technical service according to client's requirements.
Packaging and shipping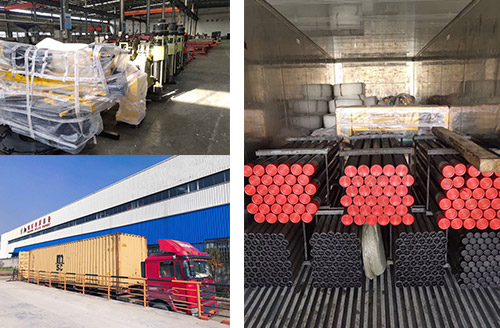 About us
We Wuxi Geological drilling equipment co.,Ltd is mainly engaged in drilling tools manufacturing, our products include:
Q series diamond bit :AQ BQ NQ HQ PQ/NQ3 HQ3 PQ3 diamond core bit,T2 46,T2 56,T2 66,T2 76,T2 86,T2 101 diamond drill bit, T6 76,T6 86,T6 101,T6 116,T6 131,T6 146, T6S 101diamond drill bit, NMLC,HMLC,LTK48,LTK60,BGM,NGM,ADBG,TBW,TNW diamond drill bit;
Drill rod:BQ NQ HQ PQ drill pipe,BW NW HW PW casing pipe, NWT HWT PWT casing pipe;etc
Wireline core barrel: BQ NQ HQ PQ double tube core barrel,T2 series core barrel,T6 series core barrel,etc.
Core drilling rig :spindle type diamond core drilling rig,hydraulic diamond core drilling rig,,underground core drilling rig,etc.
If you're looking for diamond drilling bits, welcome to consult the quotation with our factory. We're one of the leading Diamond Core Bit manufacturers and suppliers in China, offering low price and excellent service. For customized products, contact us to inform us of details now.